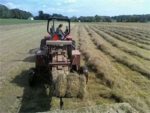 Agricultural Products Offered
Quick Summary of Farm
We also have our own pasture raised beef. Born and raised right here in Dudley. No hormones, antibiotics used. Contact us for availability.
Business Description
We are a family farm and have been making high quality hay in Dudley Ma. for over 40yr. If its not good enough for our animals its not good enough for yours.
Grandpa has been making hay and feeding animals all his life...thats over 67 yrs.
So if you think hay quality doesn't matter when feeding animals you need to come and have a talk with Grandpa!
Send Message to listing owner