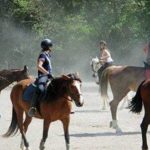 Agricultural Products Offered
Business Description
5 out of 5 Star Rated.  Family run horse farm offering lessons, leasing, on farm shows, pony parties , summer program and clinics! Facility offers 3 arenas and 200 acres of trails
Whip-o-Will Stables in located in West Dudley, Ma on 200 family owned acres. Facility boasts big barn amenities with family farm feel.  Riding accommodations include 4 riding arenas, complex trail system and licensed instructors and trainers available with a focus on dressage, balanced seat, effective equitation and problem horses. We offer on farm schooling shows, traveling show team, clinics, after-school and vacation programs as well as toddler classes and adult classes. Whip-o-Will Stables staff cater to the recreational and competitive rider alike. Our services are available year round with our indoor riding arena, outdoor lighting and maintained facility.
Celebrate your child's special day with a grand entrance to their own Gala. Your child will ride into the festivities on a horse drawn carriage! Just like Cinderella, it it their day to shine.
(Toddler Program) Join us for a safe, educational experience for your child. Our Pony Palooza classes are geared for children ages 2-5 years old. Children learn in a fun, expressive environment about riding and ponies. Our facility offers safe and sane equines for your child to have a lasting memory with, and maybe even spark their creative side with a new hobby!
Whip-o-Will Stables offers you a one of a kind experience. Our instructors have vast knowledge of multiple disciplines in order to give you the best instruction you can receive. Facility offers year round riding in any of our four maintained arenas. We strive on your success!
Our academy riding curriculum is the perfect way to introduce this exquisite sport to your child. We offer a stress free, educational environment for your child to learn in. This program is ideal for beginners, each 4 week session is tailored to the participants and each session will offer a different learning experience making signing up for multiple sessions helpful in learning the sport. We offer weekly riding lessons, summer and vacation programs for continued education and encourage our dedicated riders to compete . Our show team is also a wonderful option for the serious rider. Please visit our other service pages to learn more on our offerings and which might be a great fit for your child to enjoy time in the saddle with us.
Each session is 4 weeks

​All academy classes are held Tuesdays from 5:00 pm until 6:30 pm
Additional Services Offered: Trimming Services offered to Horses, Mules, Donkeys, Goats, Sheep, Pet Pigs
Send Message to listing owner