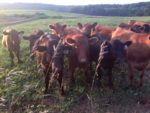 Agricultural Products Offered
Quick Summary of Farm
We are a family farm selling our own beef, raw milk, chicken, & eggs. Farming in Dudley since 1910!
Business Description
The pastures at Walnut Lane Farm are home to our naturally-raised, grass-fed cattle. Our cattle are a cross of the South Devon and Angus breeds, which grow well on a grass-based diet results in great tasting, well-marbled beef. We believe that raising our animals on a natural diet and without the use of added growth hormones makes for happy and healthy animals. That, in turn makes for some mighty delicious beef. Our grass-fed beef is lean, flavorful and brings the benefits of grass-fed nutrition to your family's table.
Send Message to listing owner