What is the Grange?
The Dudley Grange was founded on April 27, 1888
Today's Grange provides an opportunity to serve by providing leadership for local community service projects is what the Grange does best. Examples of some projects include organizing a softball league, providing hearing testing, building a community center, sponsoring a community fair, staffing an after school child care program, conducting a candidate debate and organizing voter registration drives.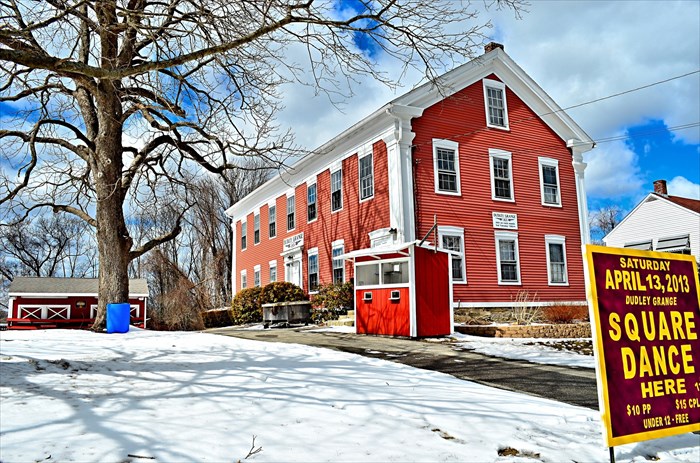 The Grange believes in leadership development and reaches out to all people in an effort to respond to real needs. It builds a better community by providing the services that people need to live better lives. In working together, the Grange is able to provide assistance when the government can't and individuals alone aren't strong enough. By working together the Grange builds community and people.
The Grange provides each member with a legislative voice at the local, state and national level. Members are part of a grassroots constituency enabling them to effectively express their views and influence legislative policy at the highest levels of government. The Grange is nonpartisan, but it vigorously encourages member participation in the political process.
The Grange is the nation's oldest national agricultural organization, with grassroots units established in 3,600 local communities in 37 states. Its 300,000 members provide service to agriculture and rural areas on a wide variety of issues, including economic development, education, family endeavors, and legislation designed to assure a strong and viable Rural America. It was formed in the years following the American Civil War to unite private citizens in improving the economic and social position of the nation's farm population. Over the past 142 years, it has evolved to include non-farm rural families and communities.
The fellowship, recreation and social activities in the Grange are developed with the family in mind – children and senior citizens alike are very welcome in the Grange. Competitions in music, art, public speaking, crafts, and a whole variety of other activities are an important part of every Grange's agenda.
Friends: For many Grange members the Grange is about friendship, and the opportunity to meet and spend time with a variety of interesting people. Grange members make friends in their community, their state and across the nation. In the Grange it is easy to make friendships that last a lifetime. Grange meetings and events always include a social aspect that has friendship as a cornerstone.
Fun: Having fun is always an important part of any activity or task. The Grange is an organization that understands the meaning of fun offering a variety of creative and recreational activities for you and your family. Our meetings are designed to be enjoyable! In the spirit of friendship, Grangers accomplish great things while having a great time.
Value: Grange membership has many valuable components. Members have shared some of the
reasons they both joined and retained their membership:
Friendship with people of good character
Family environment
Fun and enjoyment
Leadership Development
Community Service
Grassroots legislative action
Opportunity to make a difference
When do we meet?
We meet on the 2nd Tuesday of every month at 7pm.
Come join the fun for interesting programs, where we discuss local events, as well as having programs put on by fellow members.
Mailing Address:
Dudley Grange P.O. Box 1514, Dudley, Ma 01571